Meet Desert Rose: Your New Lip + Cheek Treat
We're so excited to unveil our Desert Rose Lip & Cheek Oil Stain - a perfectly pigmented lip and cheek oil that triples as a high-shine gloss, a creamy liquid blush, and a dewy, hydrating all-day lip stain.
It's a gloss, it's a stain, it's your favorite liquid blush. It's everything - all in one deeply nourishing, high-pigment formula that will have you dreaming of bright desert blooms and rare cactus blossoms.
Infused with collagen-boosting, radiance-inducing desert oils, this antioxidant-rich formula is a delicous treat for your lips and cheeks. You'll be blushing from dawn till dusk.
For glossy, high-shine lips & flawlessly flushed cheeks
Apply onto your lips first, then kiss your two fingers, dab onto your cheeks, and blend, blend, blend.
It's never been easier to create your sunkissed flush! #kissblushblendsnap
---
4 buildable, deeply-nourishing, uber-pigmented shades to indulge your lips and illuminate your cheeks. Choose from the perfect peachy nude to a candy apple red and the must-have hues in between . Or nab them all, we won't tell!
Courage: Deep red
Wisdom: Peachy coral
Influence: Hot Pink
Harmony: Light peach tone
---
The lip-loving & skin-nourishing ingredients

Organic Rosehip Seed Oil
This moisture-rich oil is full of nourishing fatty acids for petal-soft, satin-smooth lips and gorgeously flushed cheeks. Antioxidants lycopene and beta-carotene help improve skin texture and protect lips and cheeks from aging free radicals. Vitamins A and C boost radiance, combat discoloration, and encourage healthy collagen production.
Jojoba Seed Oil
A deeply hydrating oil, jojoba attracts water to the top layer of skin, sealing in moisture. Rich in Vitamin E, it helps boost collagen and fight oxidative stress that can cause premature aging.
Organic Prickly Pear Seed Oil
Prickly Pear is high in omega 6 and 9, vitamin E, and amino acids which stimulate collagen production in the skin. Vitamin K helps brighten the skin, calm redness, and promote elasticity.
Ethically Harvested Candelilla Wax
Incredibly soothing, Candelilla Wax softens and hydrates the skin while promoting cell turnvoer thanks to its high vitamin A content.
---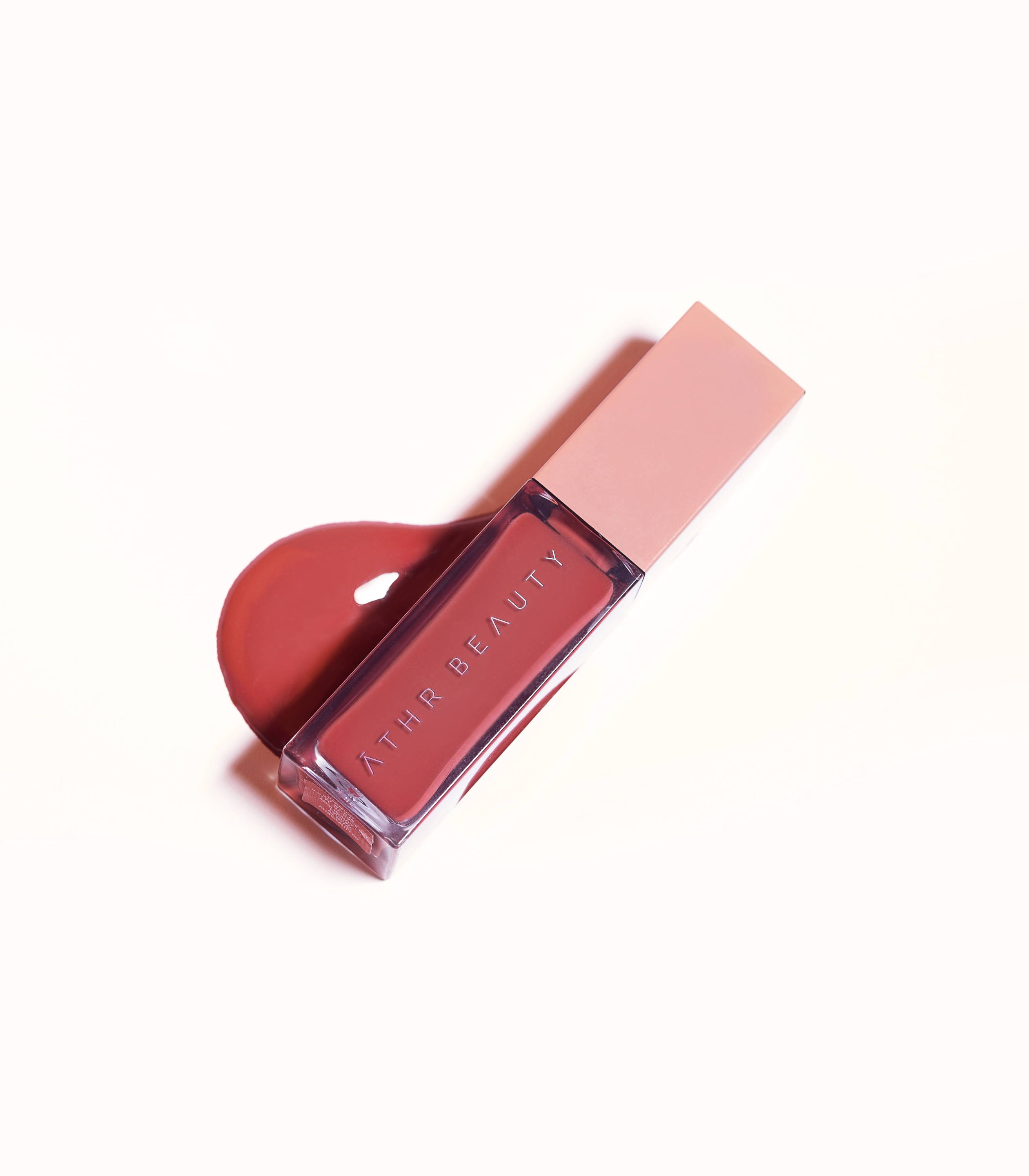 The Outer Box
Made with 100% recyclable FSC-Certified paper and water-based soy inks, you can toss the box in any recycling bin.
The Tube
Made with 100% PCR recycled plastic, it's fully recylable through our partnership with Pact Collective.
How to Recycle through Pact Collective
Once you've finished your tube, clean out any unused product.
Drop off your clean, empty beauty packaging in the Pact Bin at either HBC in Canada or Credo Beauty in the U.S.
Or, instead of dropping off your empties, ship your clean, empty packaging to Pact's sorting facility. Click here for more info!
---
Once again, ATHR creates an innovative, beautiful, and high-performing product. I love Make-up that fits more than one function, and this one is amazing for both lips and cheeks. The glossy finish is gorgeous, it feels super luscious and hydrating on the lips, and the stain lasts a crazy long time even after the shine fades. I'm thrilled with this product and can't wait to try all the shades!
Rebecca B.
I think this is one of the best formulas I've ever tried for a lip + cheek oil stain. I was scared that it was going to be too sticky as a cheek, but I actually think it's PERFECT. The perfect formula, and the perfect colors. I do recommend first putting it on your lips, kissing your fingers, then adding to your cheeks so it's not too pigmented.
Cat
I LOVE this product. It feels so moisturizing and looks really fresh. Plus the super pretty colors pop without being too dramatic. Bonus: great tones/sparkle for lips! And of course, this eco brand always makes me feel good about investing in beauty.
Rachel M.
---