Make Magic With Our NEW Manifest Palette
We're so excited to unveil Tiila's favorite creation: the Manifest Crystal Palette - a universally flattering 12- shade palette made to do it all. It's Ethereal, it's dramatic, it's everyday nude. It's a happy touch of barbiecore and a decadent dose of dark chocolate. Amethyst infused, it's made to awaken your inner muse.
Rich velvety purples, sophisticated fall-ready neutrals, the perfect ballerina shimmer topper, and did you see that pop of hot pink?? It's a color for every moment and vibe from 90s nude supermodel to electric graphic liner, to a perfectly plum halo eye. Truly, the limit does not exist.
Made with deeply hydrating, skin soothing plant-based ingredients that boost radiance, decrease inflammation, and help fade dark spots.
It's limited edition so don't miss out! We know some tears were shed when our last two LE palettes said goodbye!
---
12 deeply pigmented, effortlessly blendable shades - think pink champagne shimmers, decadent moody mauve mattes, and all the tones of violet and shocks of hot pink in-between. Experiment with every texture under the desert sun: matte, shimmer, metallic, and duo-chrome.
Motivation: Soft rose matte
Intentions: Mauve matte
Amplify: Pink pearl metallic
Desire: Soft violet gray Matte
Creativity: Pink cloud shimmer
Spirituality: Amethyst purple shimmer
Goals: Rosewood metallic
Chakra: Deep aubergine metallic
Power: Dark brown matte
Transcendent: Golden to purple duo chrome metallic
Dreams: Light Pink quartz shimmer topper
Goddess: Magenta metallic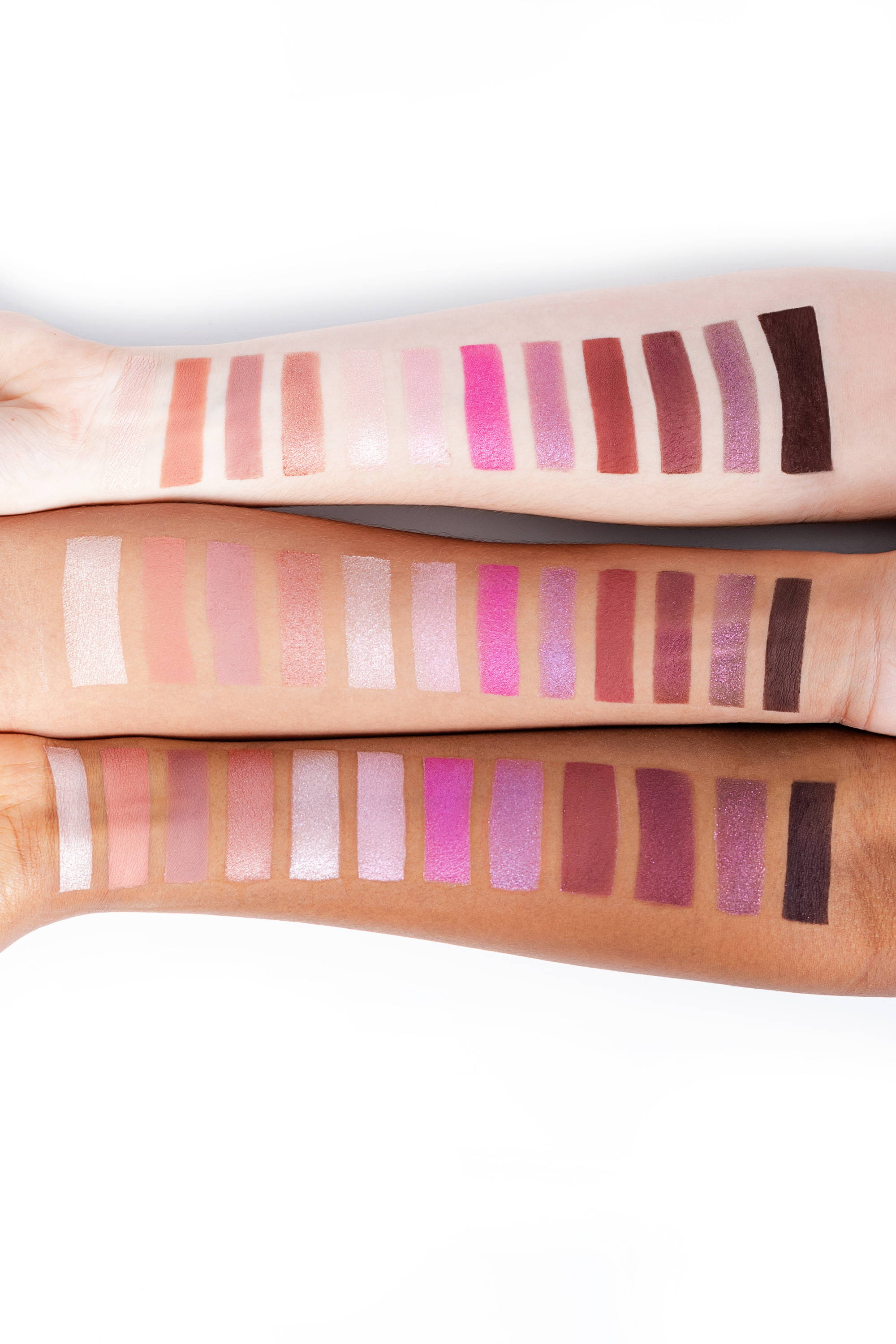 ---
The Glow Giving Ingredients

Organic & Fair Trade Coconut Oil and Shea Butter
This moisturizing, skin-softening duo works together to create our signature luxuriously smooth and buttery feel. Just one swipe for a velvety, high-impact finish that blends like you've never seen.
Aloe Vera
Full of more than 75 skin-loving actives, Aloe is deeply hydrating, helps fade discoloration and prevent acne, decreases redness and inflammation, plus helps prevent free radical damage (free radicals accelerate the signs of aging). All reasons to wear our shadows all over the face!
---
Highlight
For a dreamy, pearlescent pink drop of light, use shade Amplify on the inner corner, under your brows, atop your cheekbones, and along the cupid's bow.
Blush
For a sophisticated matte flush, try Motivation on the cheeks.
If you're craving some sparkle, blush with Creativity, a pink cloud shimmer.
Try Goddess on your cheeks for a barbiecore moment we can't get enough of.
Liner
Almost any shade can double as a liner - dip into those rich, deeper shades for a traditional dark line, and try out the purples and pink for a pop of color or a graphic liner vibe!
---
Amethyst For Your Skin
Amethyst powder illuminates the skin for that bathed-in-radiance, #litfromwithin glow. It helps reflect harsh light away from the skin, camouflaging wrinkles and fine lines.
A truly skin-soothing stone, amethyst emits infrared rays which boost circulation in the skin, calming inflammation and redness. Its negative ion-charge helps detoxify the skin by drawing out toxins and free radicals.
Amethyst is also known to target bacteria growth, making it beneficial for acne-prone skin.
Amethyst For Your Spirit
Connected to the crown chakra, Amethyst aligns you with the infinite consciousness that you are. It purifies negative energy/thoughts and helps you connect with your intuition and bring your manifestations to life.
---
Wow, the shades are S-T-U-N-N-I-N-G! I think this is hands down my favorite ATHR Palette EVER! I just see myself wearing this all the time. It has the perfect neutral but pretty shades with gorgeous shimmers, my favorite is GOALS which is like a violet mauve metallic that I literally drool over every time I swatch it!!!!! Don't walk, RUN!!! I think it's limited edition??

- Danielle

---